This cake is so good, you will never want to share it with someone else. The chocolate chips are evenly distributed on this soft and fluffy cake that tastes like a mix of your favorite dessert and the best birthday present ever!
This cake is so fluffy and chocolatey, it will make you want to eat more than one slice. A perfect dessert for your next event.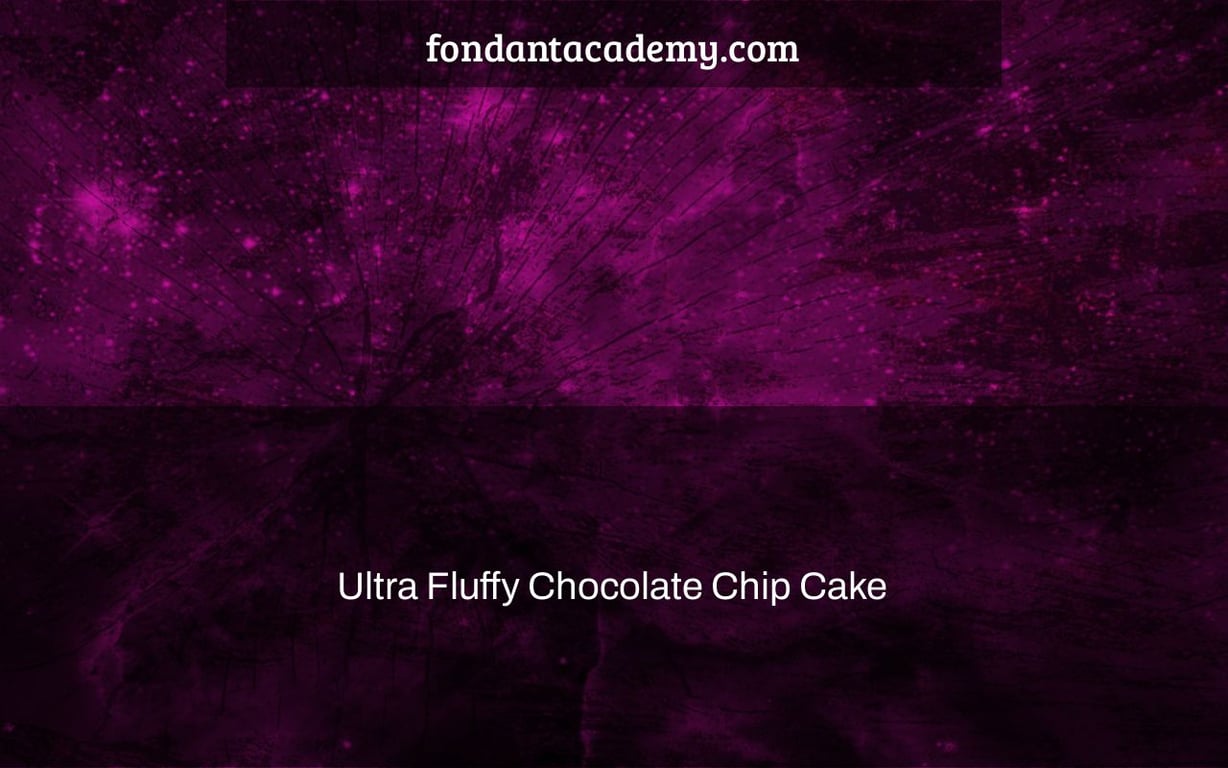 Okay, so my favorite food is chocolate chip cookies. So I decided to prepare a Chocolate Chip Cake for you. In other words, a creamy vanilla cake studded with small chocolate chips, brown sugar icing, and a chocolate ganache drizzle that tastes EXACTLY like a chocolate chip cookie. 
This cake is very delicious. It's also appropriate for people of all ages. The fact that it's a cookie cake will appeal to both children and adults.
I'm now flying home from teaching the #napaworkshop2017. It was a fantastic weekend full of food and learning in a spectacular setting.
My co-host Bella assembled an excellent team to assist us with the weekend, and everything went off without a hitch.
How to ice a layer cake using tips
Although assembling a layer cake is a very simple procedure, there are a few things you should keep in mind to ensure that everything goes properly.
The secret to icing any layer cake is to use a rich, creamy frosting. To do this, beat the butter and sugar together for at least 4-5 minutes. The mixture should become light and fluffy, and the color should lighten somewhat. If the frosting is too stiff after mixing in the remaining ingredients, add a spoonful of milk at a time until it reaches the desired consistency.
Then comes the phase that most bakers dread the most: icing the cake. Don't worry, my readers; I've got you covered. Add a tablespoon of frosting to the cake stand or plate you'll be icing the cake on before you start frosting the layers. This will assist in keeping the bottom layer in place and preventing it from rolling about!
Then, on the dish, set the first cake layer and dollop a large quantity of frosting on top. Spread the frosting evenly over the top of the cake layer, but don't let it run down the edges. Repeat with the other layers, using slightly less frosting on the very top of the cake.
Then, using the remaining frosting, spread it evenly across the edges of the cake.
If a smooth coating of frosting is difficult to produce, put a tiny bit of frosting over the whole cake and chill it for 30 minutes to harden up (this is known as a crumb coat).
Spread the remainder of the frosting on top of the chocolate chip cake after it has chilled—it should slide on nicely this time! It's entirely optional to chill the cake throughout the frosting process, although it's helpful if your cake is causing you problems.
Prepare the chocolate ganache and drizzle it over the edges of the cake after it's been frosted. Any rough places on your cake will be hidden by the ganache, which also tastes delicious!
I'm exhausted and need at least 12 hours of sleep, but I couldn't wait to share my Chocolate Chip Cake with you. It's very gorgeous, and you should create it right now.
Regards, Sarah
Print
Ingredients
To make the cake
1 cup room temperature salted butter
1 1/2 cups sugar (granulated)
1/2 cup brown sugar (light)
4 big room-temperature eggs
vanilla extract (four teaspoons)
2 1/2 cups flour (all-purpose)
2 tablespoons powdered baking soda
1 teaspoon kosher salt
1/2 gallon buttermilk
chocolate chips (1 cup), mini
for the cream cheese icing
1 cup room temperature salted butter
4 c. sugar (powdered)
1 tbsp extract de vanille
a half teaspoon of salt
1–2 tbsp milk, depending on texture preference
to make the ganache
1 cup chocolate chips
1 tbsp coconut butter
Instructions
Preheat the oven to 350 degrees Fahrenheit. Two 8-inch or three 6-inch pans should be greased and lined with parchment paper. Remove from the equation.
2 minutes in a standing mixer, beat butter and both sugars until light and frothy. Add the eggs one at a time, mixing well after each one. Lastly, add the vanilla extract.
Combine flour, baking powder, and salt in a separate basin. Alternate pouring flour and buttermilk into wet ingredients in three batches until well mixed.
2 tablespoons flour, tossed in chocolate chunks, carefully mixed into batter Fill prepared pans equally with batter and bake for 20 minutes for 8-inch pans or 25 minutes for 6-inch pans. Allow for thorough cooling while preparing the icing.
To create the frosting, beat the butter on high speed for 1 minute, or until fluffy. Add the powdered sugar and beat for another 2-3 minutes on high speed. If the frosting is too thick, add vanilla extract, salt, and milk.
Frost each layer before moving on to the outsides. Refrigerate while you melt the ganache.
Melt chocolate chunks and coconut oil in 30 second intervals in the microwave to produce ganache. Remove the cake from the fridge and coat it with ganache!
More layer cake recipes may be found at:
This is the best chocolate blackout cake I've ever had.
Cake with Hummingbirds
Apple Cake with Ginger Molasses and Mascarpone Frosting
Banana Dulce de Leche Layer Cake
Chocolate Cake in 30 Minutes for Two
Watch This Video-
The "broma bakery best chocolate cake" is a healthy and delicious cake that contains no refined sugar. The recipe is easy to follow and can be made in less than an hour.
Related Tags
best dark chocolate cake recipe world
layered chocolate chip cookie cake
blackout cake recipe
tangy chocolate cake
doughnut cake