A snack for the whole family. A hearty, savory dip that can be made with just three ingredients! The beer adds a refreshing hint of flavor to this comforting starter or side dish. If you're feeling fancy, feel free to top it off with bacon bits and sour cream.
Pretzel Bites with Beer Cheddar Dip is a food item that has beer cheese dip. The dip is made out of cheddar and cream cheese, which makes it creamy and rich. The pretzels are dipped in the beer cheese before baking, making them crunchy on the outside and soft and chewy on the inside.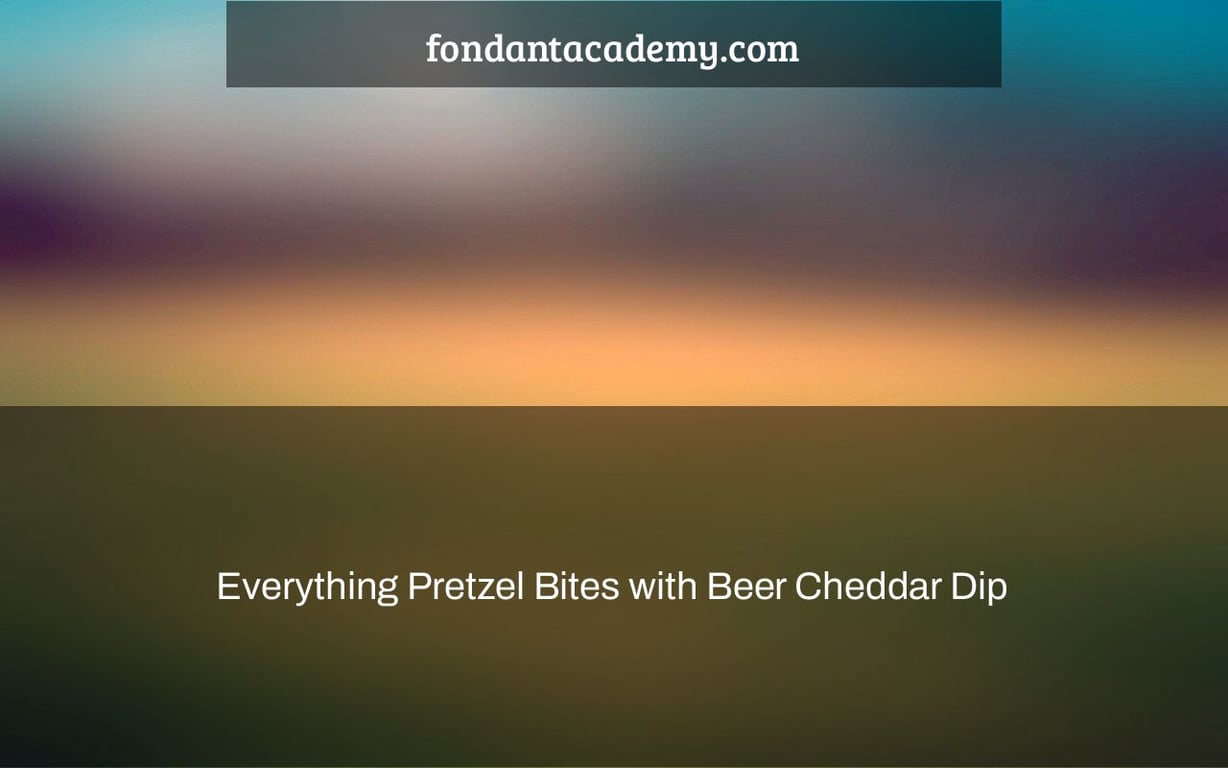 These handmade pretzel nibbles, sprinkled with everything bagel seasoning and served with beer and cheddar cheese dip, are perfect for game day! 
I'm now seated in the Boston airport, munching on pretzel nibbles. They aren't these handmade ones, alas. However, just thinking about them made me want some pretzels.
I can't help myself; it's been a weekend of epic proportions, and I'm in desperate need of nourishment. We've been travelling continuously since Thursday night since Alex came to run in the Head Of The Charles this weekend. 
The huge Michigan vs. Michigan State game took place on Saturday. After the races, a group of approximately 20 of us headed to a pub near Harvard Square to enjoy the celebrations. I'm talking about myself, a few of female coxswains, and a handful of massive male alumni rowers. All of them are above 6'2′′ tall.
We drank, ate, and drank some more while watching a practically perfect game, up to the very final second. To cut a long tale short, we lost by a fluke touchdown at the 0:01 mark. Devastating.
Apart from that, it had been a terrific weekend.
Now I'm waiting for my flight to Chicago to shoot some photography for Ambitious Kitchen, and then we're both off to a blogging retreat in Utah on Thursday. It is going to be fantastic.
Follow Broma on these social media platforms to stay up to speed on all she's doing:
Facebook | Instagram | Pinterest | Twitter | BlogLovin' | Sarah Fennell's Snapchat handle is sarahfennell.
Print
Ingredients
12 cup hot water
brown sugar (four teaspoons)
2 tsp. salt (kosher)
4 tbsp. dried active yeast
412 cup flour (all-purpose)
melted 1/2 cup unsalted butter
10 quarts of water
a third of a cup of baking soda
1 egg yolk (big) beaten with 1 tablespoon water
seasoning for everything bagel (salt included)
To make the beer and cheddar dip, combine the ingredients in a mixing bowl.
2 tablespoons unsalted butter
2 tblsp flour (all-purpose)
2/3 gallon of beer (IPA or Stout)
heavy cream, 1/3 cup
2 tblsp mustard (dijon)
1 3/4 cup shredded medium or sharp cheddar cheese
season with salt to taste
Instructions
In the bowl of a stand mixer equipped with the dough hook attachment, combine the water, sugar, and salt. Allow 5 minutes for the yeast to activate, or until the mixture starts to bubble. Add the melted butter and flour, then reduce to the second lowest speed and knead the dough for 5-7 minutes, or until it is smooth and velvety (think of the skin on the underside of your forearm). Remove the dough from the mixer and set it in a large oiled mixing basin. Cover with plastic wrap and let it prove for 1 hour, or until it has doubled in size.
Preheat the oven to 450 degrees Fahrenheit. Brush 2 half-sheet pans with vegetable oil after lining them with parchment paper. Remove from the equation.
In an 8-quart saucepan or roasting pan, bring the 10 cups of water and baking soda to a boil.
Meanwhile, roll out the dough onto a lightly oiled work area and cut it into four equal pieces. Each piece of dough should be rolled into a 24-inch rope. Each rope should be cut into 1 1/2 inch bits.
Place about 12 pretzel nibbles in the boiling water at a time for 30-45 seconds. Using a big flat spatula, remove them from the water. Return the pretzels to the sheet pan, brush with the beaten egg yolk and water mixture, and season with everything seasoning. Bake for 12 to 14 minutes, or until a rich golden brown hue has developed. Before serving, chill for at least 5 minutes on a cooling rack.
To create the dip, stir together the flour and butter in a large saucepan over medium low heat until the mixture smells toasted and becomes light brown, about 5 minutes. Increase the heat to medium and add the beer, cream, and mustard, whisking constantly. Allow for 5 minutes of cooking time, stirring regularly with a spatula. Remove the pan from the heat and add the cheese and salt to taste. Serve right away!!
Watch This Video-
The "Everything Pretzel Bites with Beer Cheddar Dip" is a recipe that is made of everything but the bagel dip. The pretzels are dipped in beer batter and then fried. They can be served with cheddar dip or as an appetizer. Reference: what to eat with everything but the bagel dip.
Related Tags
soft pretzel bites
trader joe's beer cheese
beer cheese recipe
trader joe's dip recipes
trader joe's sour cream dip